The 10th Annual Summit will be held in Jacksonville, FL January 2020.
Date & location will be announced in the CCR March/April 2019 issue or visit www.ccr-summit.com.
The CCRS 2019 was held January 15th-17th, 2019 at The Golden Nugget Biloxi Hotel & Casino in Biloxi, MS.
CCRS 2019 End-User Comp Reg Form       CCRS 2019 End-User Paid Reg Form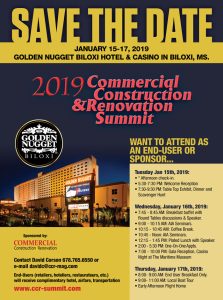 The 2018 Summit was held January 10th-12th at The Hilton Daytona Beach Oceanfront Resort in Daytona Beach, FL.
Click on links below to watch videos of 2018 Summit:
Mobile Video Tournament,  Table Top Exhibit,  Breakfast Speaker, Seminar #1,
Seminar #2, Seminar #3, Seminar #4, Lunch Speaker, One-On-One Appts,   Karaoke Gala Reception,  Go Kart Racing & Daytona Speedway
Click on links below for video testimonials for 2018 Summit:
Woodforest National Bank, Ace Hardware, Chanel USA, Hospitality Realty Services
Click on Links to view pics of 2018 Summit:
Mobile Video Tournament, Table Top Exhibit, Breakfast Speaker,
AIA Seminars, Lunch Speaker, One-On-One Appts, Karaoke Gala Reception.
Go Kart Racing & Daytona Speedway
2017 Summit HiLites, 2016 Summit HiLites, 2015 Summit HiLites,
2014 Summit HiLites, 2013 Summit HiLites, 2012 Summit HiLites,
2011 Summit HiLites